Electrical engineering, troubleshooting and planned maintenance
Years of experience within electrical installations & automation on board vessels is your warrant for professional and relevant assistance
Swift response keeps you moving
No matter if you need routine services for planned maintenance or urgent troubleshooting or engineering, our engineers will carry out the job at the desired location
Click here to contact us Automation systems
At evice consult you will find vast experience in troubleshooting within both complex relay-logic as well as new PLCs, hence we can quickly identify the issue have the system back in service
Electrical installations
From deffective components in the main switch board to earth faults on consumers underneath the foecastle, we can assist in identifying the issue and replace/repair the defect.
For more exetensive damages or critical break-downs we furthermore aid the technical superintendent with – or take leak of the root-cause-analysis and provide inputs on corrective and preventive actions.
Alternators and syncronizers, load-sharing etc.
Troublesooting on alternators, megger-testing, adjustment of automatic voltage regulators (AVR) etc.
Furthermore we have service engineers specialized in gen-set controllers and load-sharing / power management systems from DEIF, ComAp and Nordhavn.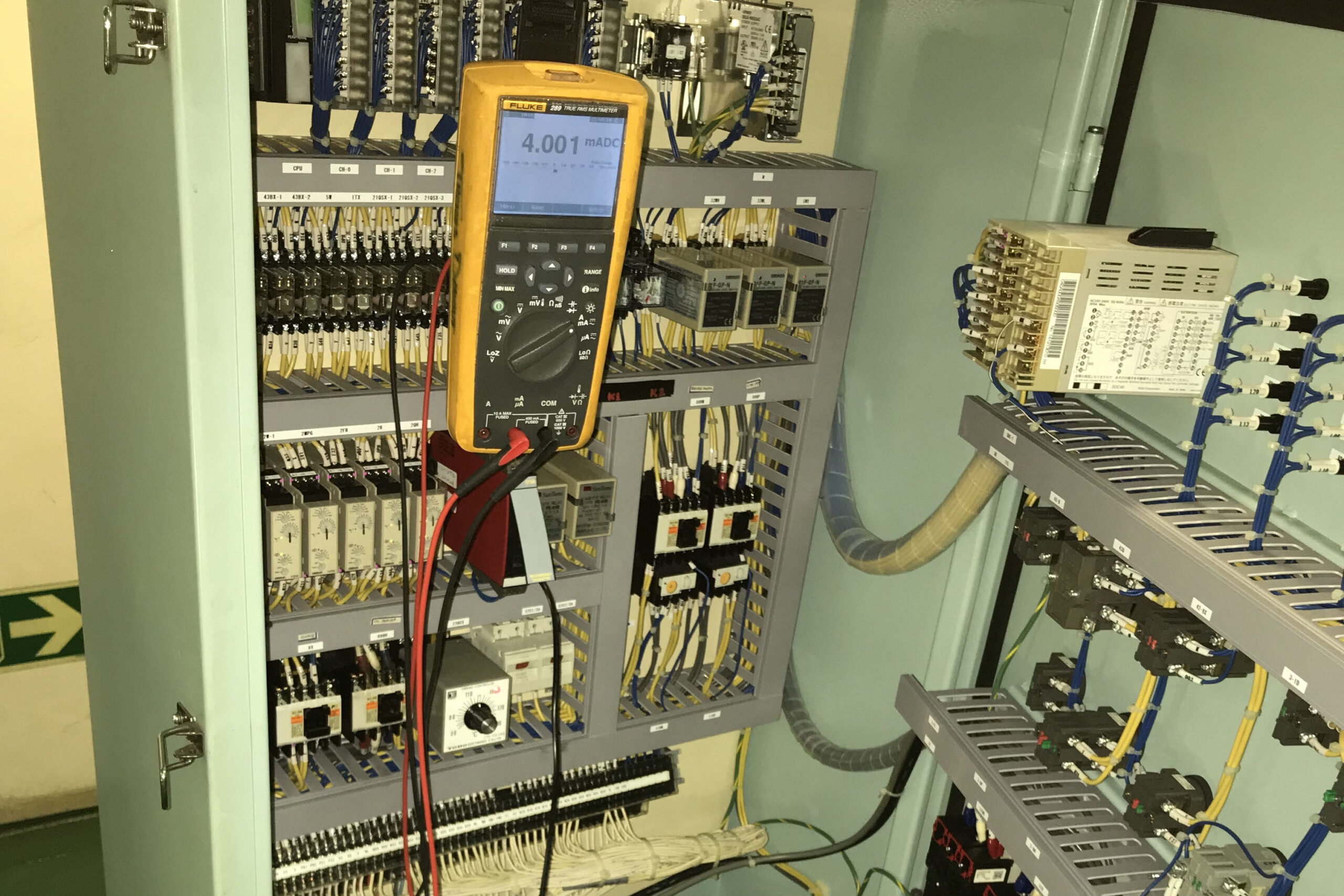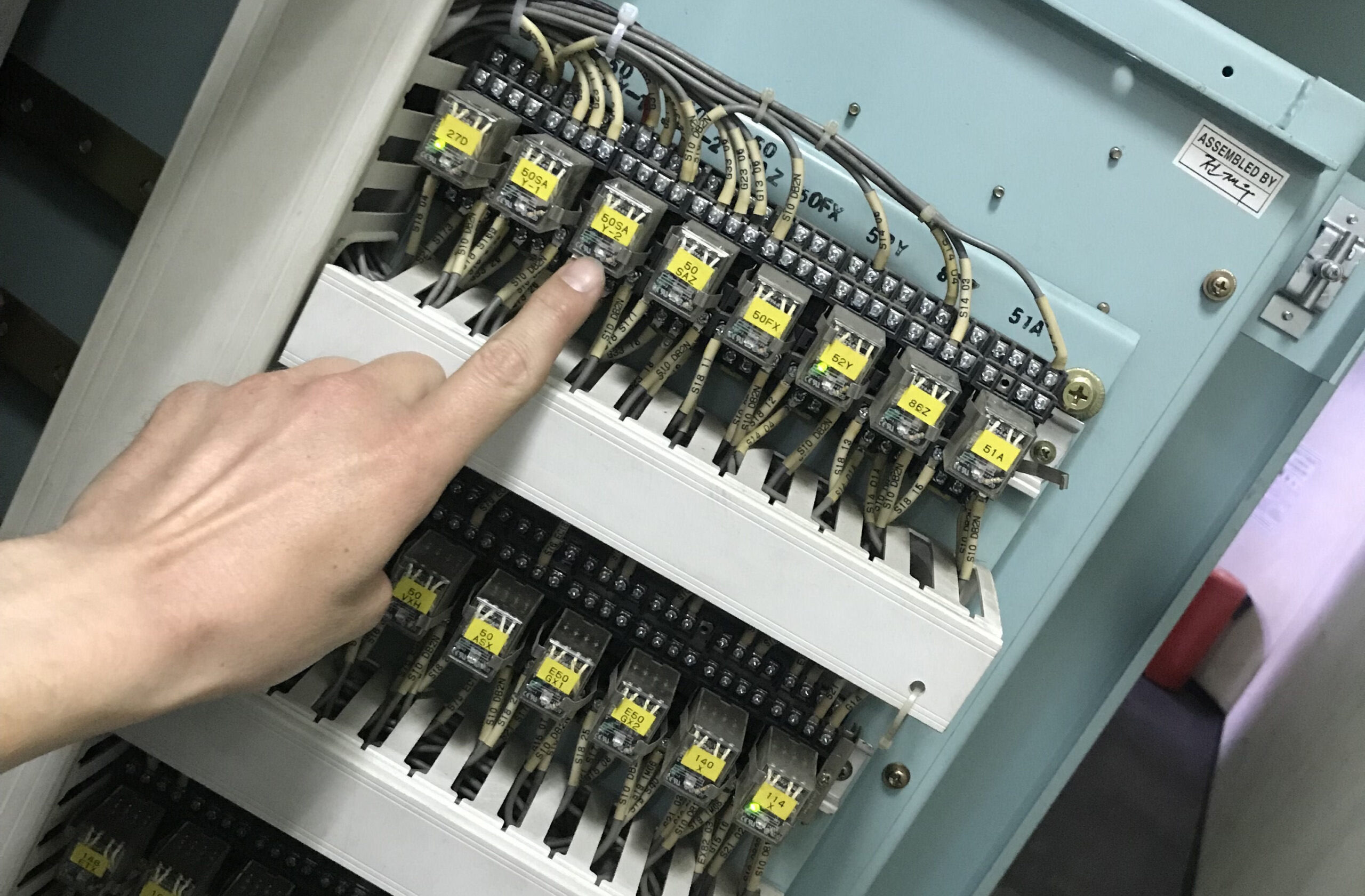 Verification of work against approved drawings
To ensure lowest possible OPEX, correct documentation is crucial. Not least to minimize wrong spare-part deliveries and time-consuming troubleshooting.
We have broad experience in review of drawings during the design-phase, prior to class-approval. And if required, we can provide assistance within system design according to the relavant rules of any IACS class.
Once drawings have been approved, we have skilled travelling service engineers used to untertake supervision and/or verification of the work carried out and verify that drawings have been updated as neccesary ("as-build drawings").
Compliance with rules & regulations
We offer assistance during the design phase of any electrical & automation projects, to ensure compliance with relavant classification societies as well as IEC & ISO standards
Engineering, planning and project work

We can take care of your project works and provide neccesary documentation for class' approval, such as cable plans, short circuit and power-balance calculations, planning of cable penetrations, modifications of existing switchboards and controller panels and signal exchange of e.g. GPS, vessel performance monitoring systemes, machinery alarm and monitoring systems etc.
Drawings and calculations
Drawings and engineering for modifications of switchboard, planning of control- & automation systems etc., whilst obeying relevant parts of the IEC 60092-series standards and the rules & regulations of the respective classification society.
Short circuit calculations, selectivity studies and power-balance calculations are made according to relevant requirements, such as e.g. IEC 61363-standard and the rules & regulations of the respective classification society
Planning of retrofit and modifications
Broad experience from various projects.
E.g. planning and installation of signal-interface between BWTS and EGCS to existing machinery, GPS and alarmsystem.
Calculations and settings of protective relays for new consumers, connected to new or existing breakers in main- or subswitchboards.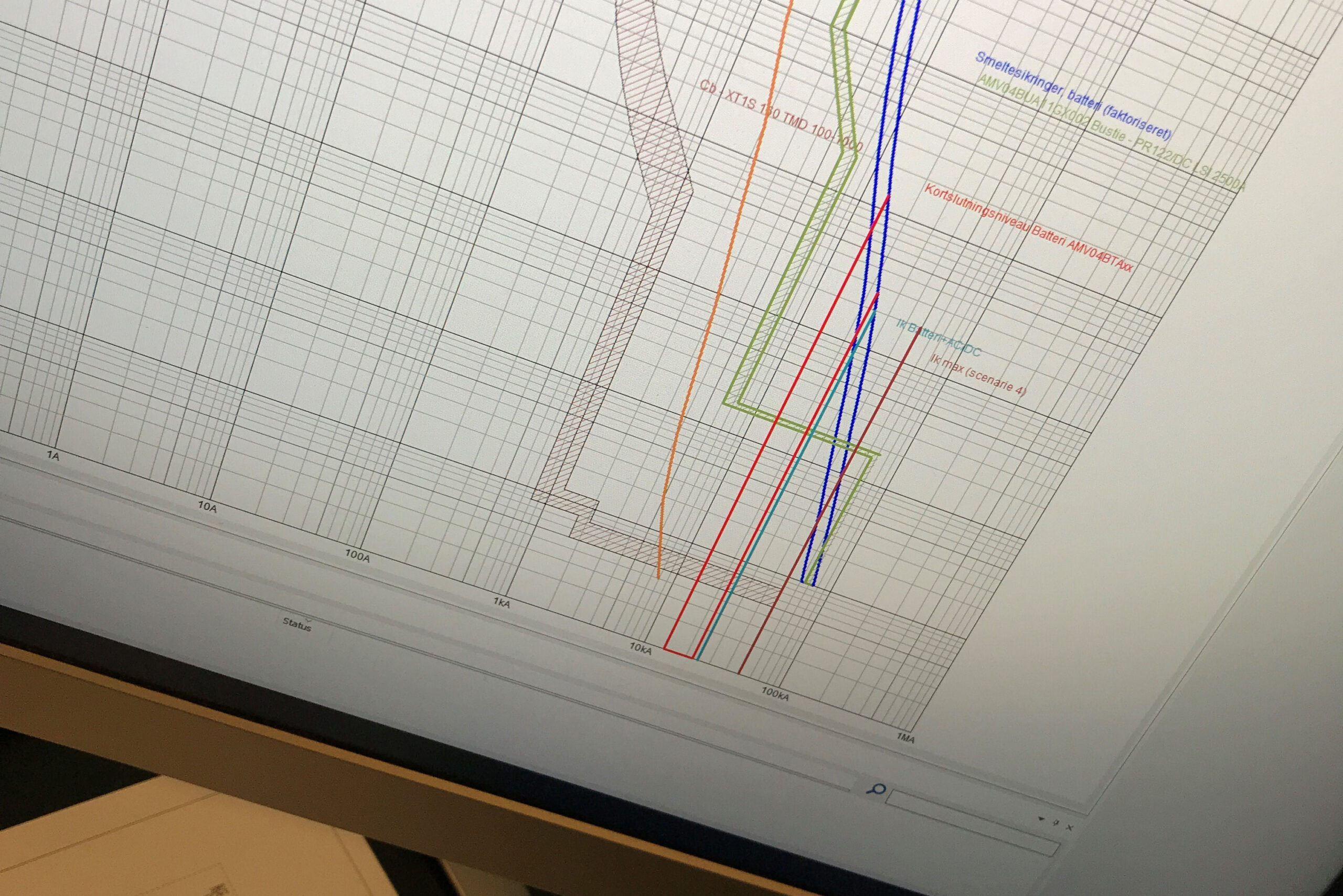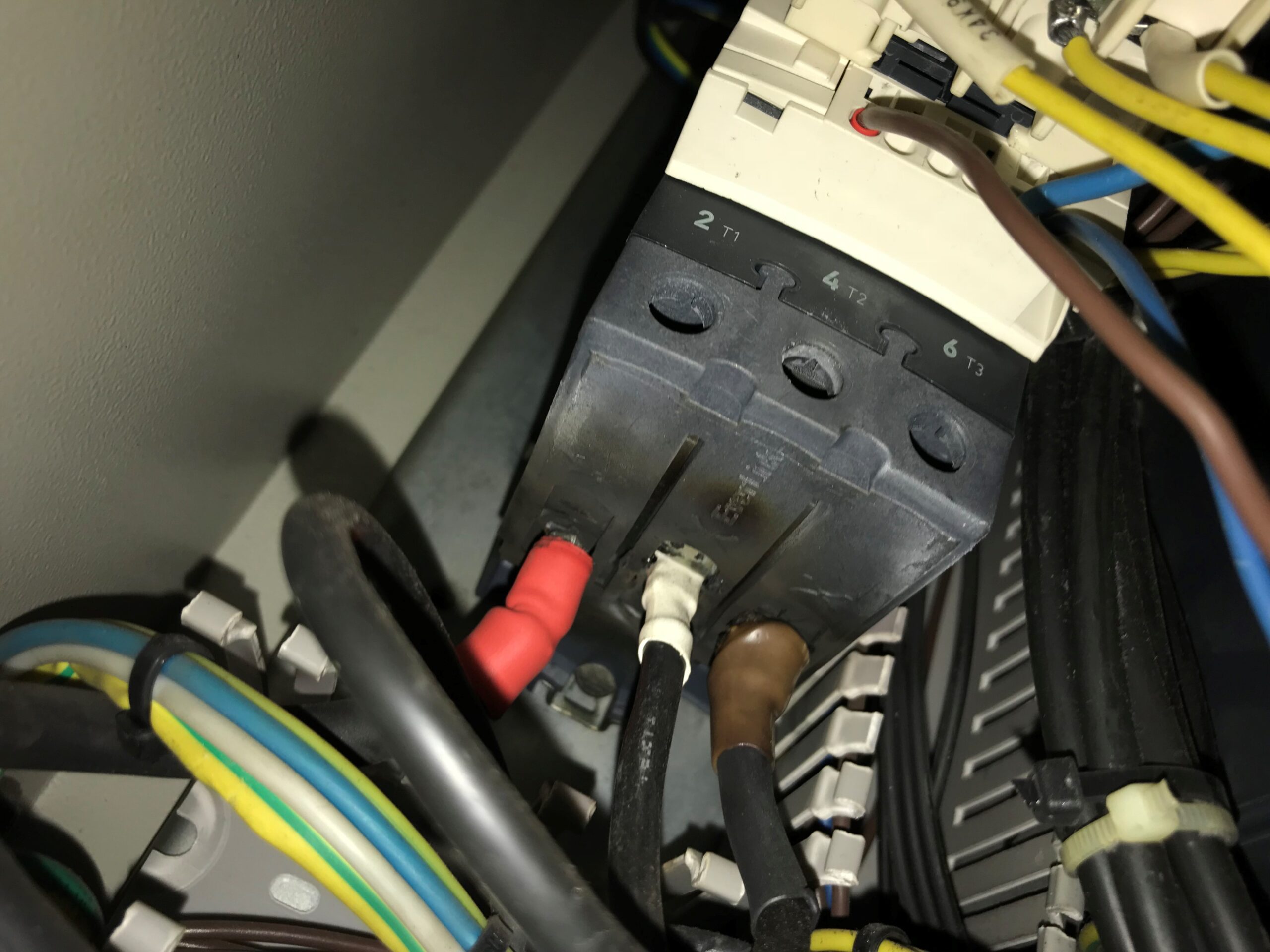 Testing and calibration of alarms
We can provide traveling service engineers to test most alarms comonly found on board, from bilge alarms to pressure switches in your lube-oil systems as well as pressure- and temperature transmitters.
Troubleshooting services

We provide experienced travelling engineers for troubleshooting and repair of anything from a burned contactor for the rescue boat davit, to tracing wiring issues of the tacho signal on large main engines as well as adjustment of voltage regulators (AVRs) of the alternators.
Should remote advice by e-mail or phone be prefered, we can assist on basis of a throughout description of the situation and a copy of the relavant electrial documentation.
Fast response by mail or phone
Experienced engineers having provided remote assistance for both crew and technical superintendents, for tasks such as interpretting electrical schematics, preparing proposals for troubleshooting procedures etc.
By providing us with a copy of the relevant electrical schematics along with a description of the issue, we can usually assist the crew already on board the vessel in either solving or at least narrow down the cause, for more than 75% of all issues remotely, by close collaboration with the crew/technical superintendent.
This clearly gives savings both when it comes to travel expenses as well as greenhouse gas emission from the transport.
Assistance on board - where the vessel is
We have experienced travelling electrical- & marine automation engineers, with backgrounds from both maritime and shorebased industries.
Hence we will usually at short notice be able to provide the service needed no matter if it is in Copenhagen or Singapore.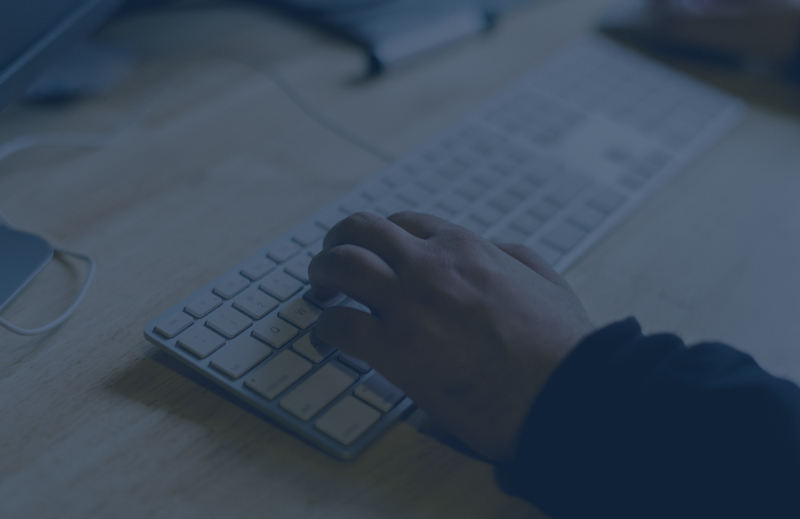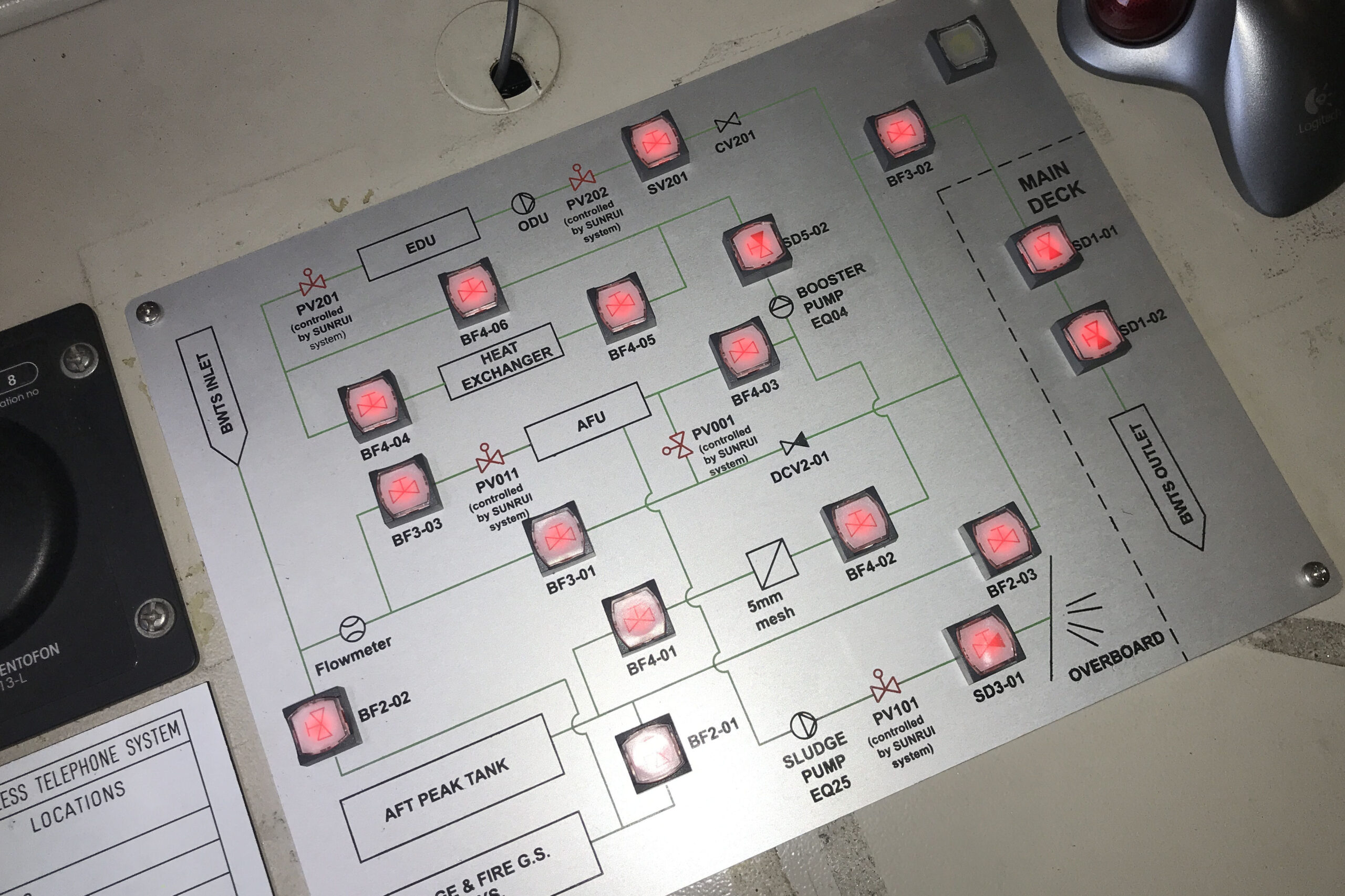 Simple mimic panel with push-buttons and LED status indication, for easy and simple operation of BWTS valves on board a tanker vessel.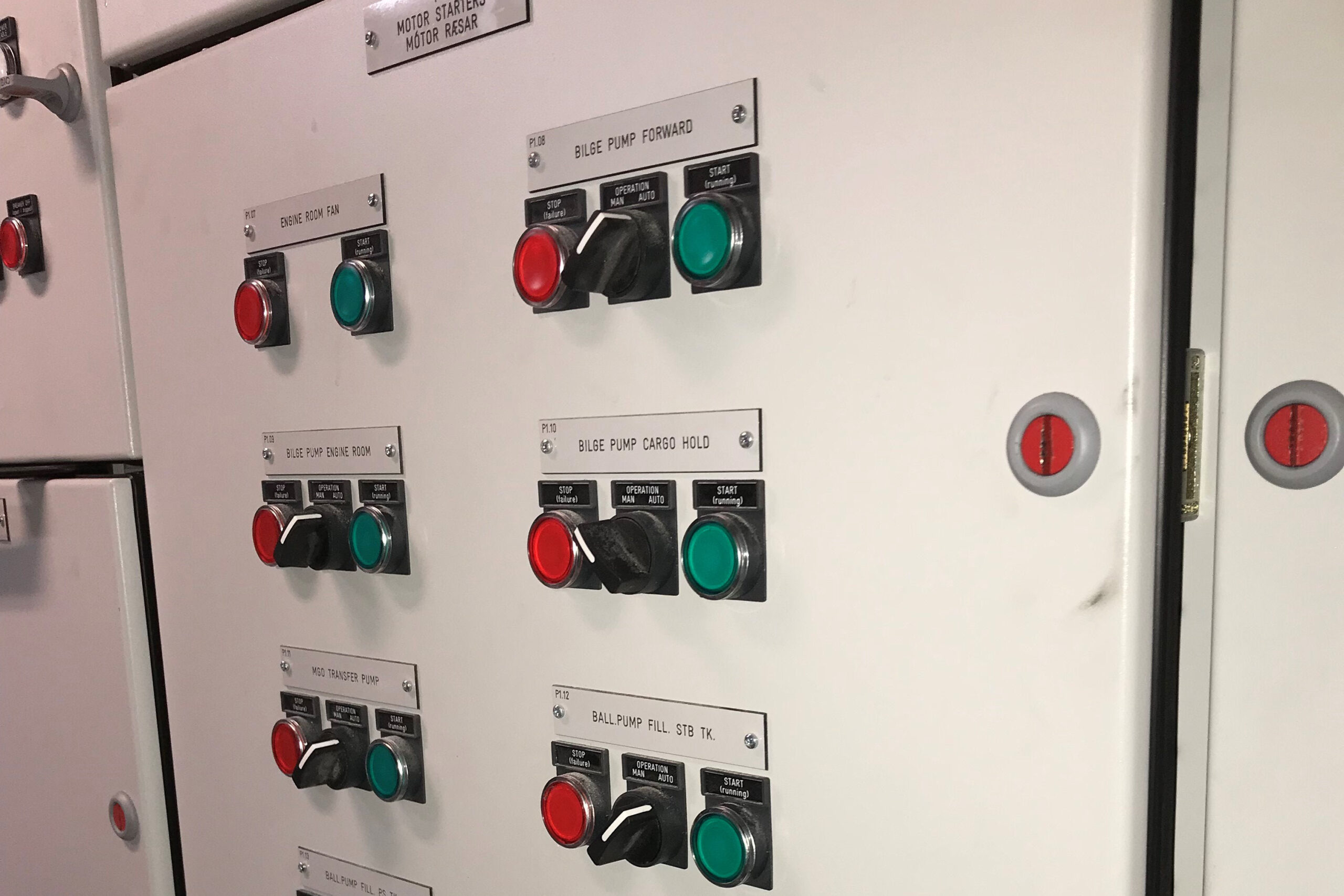 Motorstarterpanel on board an fishing vessel.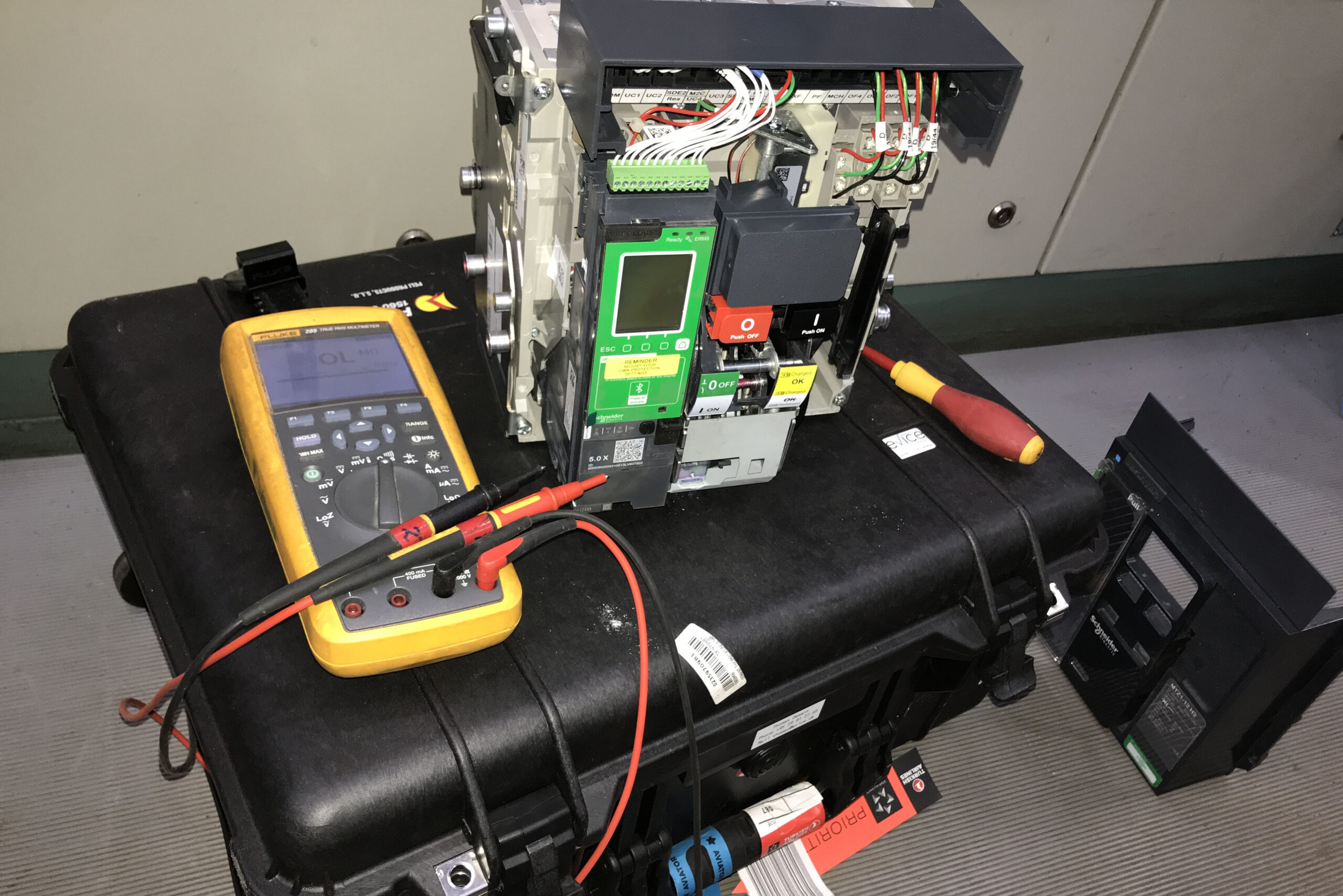 Replacing shunt-trip coil and installation of electronic protection relay in a Schneider-Electric MasterPact ACB